Posted on Sunday, July 17, 2022 12:22 AM
The Municipality of Greenstone is recruiting for appointment to the 2022-2026 Municipal Elections Compliance Audit Committee.
The Committee is required by the Municipal Elections Act, 1996 to consider applications requesting audits of candidates' campaign finances. The Committee may be required to appoint auditors and determine if legal proceedings are required as a result of the auditors' reports.
Applicants with a background in accounting, auditing, law, election administration, and/or...
Posted on Monday, July 11, 2022 08:47 AM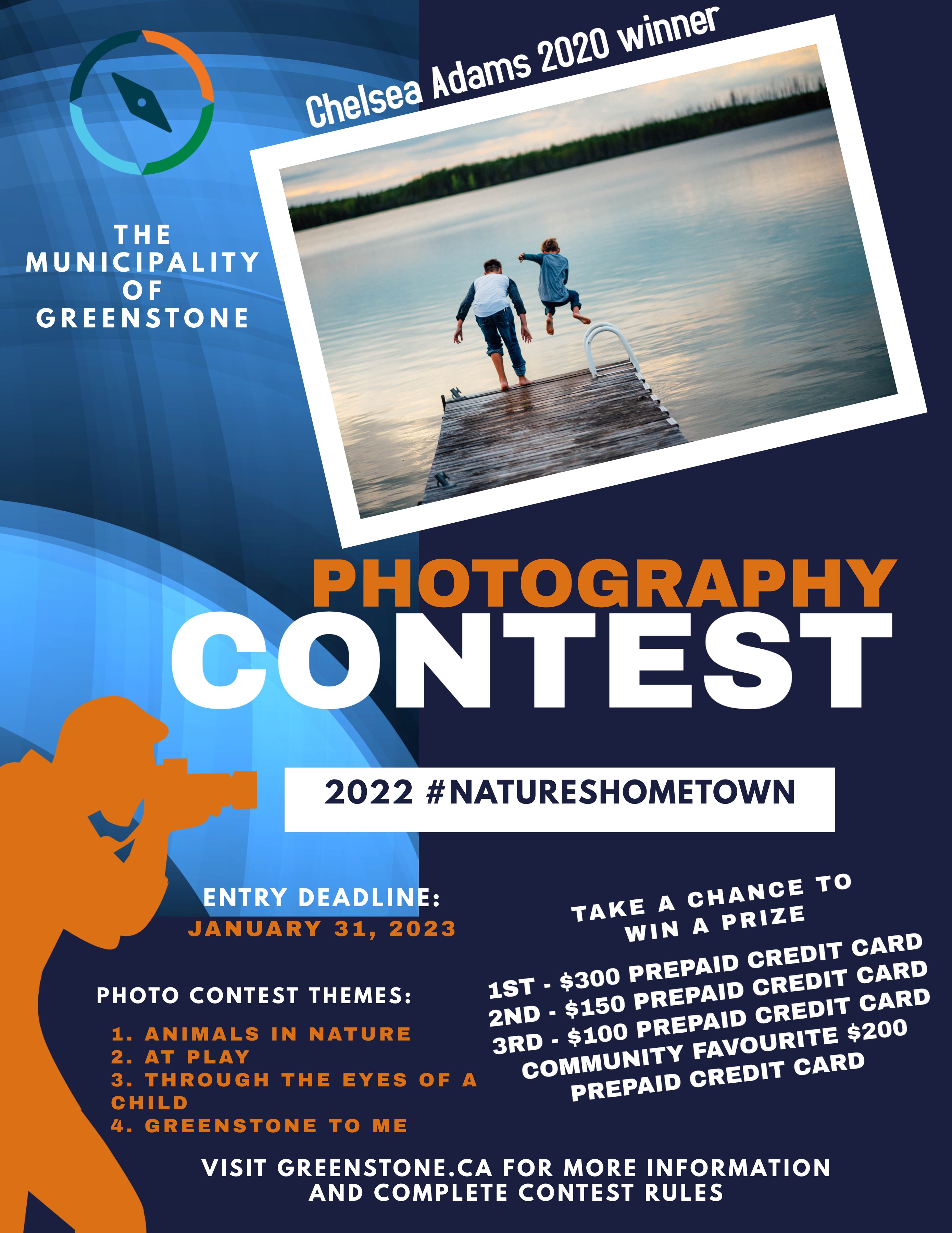 Posted on Wednesday, July 06, 2022 10:57 AM
The Municipality of Greenstone is pleased to announce the 2022/2023 Nature's Home Town Photo Contest! We look forward to entries from all seasons and encourage residents to explore the outdoors and connect with nature.
All residents of the Municipality of Greenstone, aged 18 and over, are welcome to submit a photo in each of the four categories listed below:
animals in nature
Photos of local wildlife or a household pet enjoying nature (always respect wildlife and remain a safe distance...
Posted on Friday, June 10, 2022 04:20 PM
The Municipal Property Assessment Corporation (MPAC) is responsible for collecting the information of residents in Ontario (name, date of birth, citizenship and school support) in order to create a Preliminary List of Electors for municipal and school board elections. Municipalities will use the Preliminary List of Electors to prepare their Voters Lists for the 2022 Municipal and School Board Elections.
One of the ways MPAC collects this information is through voterlookup.ca. Here, Ontarians can...
Posted on Friday, June 03, 2022 09:31 AM
Municipal Council has passed and enacted By-Law 22-24. The by-law adopts new conditions for the Septic Pumping Grant Program Policy, which offers assistance for septic tank maintenance to ratepayers that do not have municipal water and sewer service capability for their property.
Please visit the Water and Wastewater Treatment section of the Municipal Website or your local Ward Office for an application or more information.
If you have any questions, please feel free to contact...