The Municipality of Greenstone is starting an Environmental Assessment process. During this process, engineers will study ways to reduce and manage waste within the region of Greenstone. The goal is to create a long-term plan to manage and dispose of the Municipality of Greenstone's solid waste.
Three rounds of engagement are planned with the communities of Greenstone, Indigenous groups, and organizations in the area. Meetings with select rights-holder and stakeholder groups will occur in Fall 2022 with public workshops open to the public to follow. To learn more about the public engagement process, timeline, and ways to get involved, please click on the tabs below.
KGS Group and Scatliff + Miller + Murray have been retained to assist the Municipality of Greenstone in the development of the plan.
Project Contact:
Tony Gallo
KGS Group
UPDATES
August 26, 2022 – Public Notice of Commencement
Public Open House Events

Metis Community Open House
BACKGROUND
There are four municipal operated landfills in the communities of Geraldton, Longlac, Nakina, and Beardmore.
Current Capacity
Geraldton landfill was closed in 2021 at 102% capacity.
Longlac was at 57% capacity as of September 2020. The landfill serves Longlac, Camp 25 Area, Caramat, Pamela & Margo Lake Area, Long Lake #58 First Nation, and Ginoogaming First Nation. As of December 2021, it started servicing Geraldton.
Nakina landfill was at 50% capacity as of Decmeber 2021.
Beardmore landfill is over capacity as of December 2021 and currently serves Beardmore, Jellicoe, and Wildgoose area.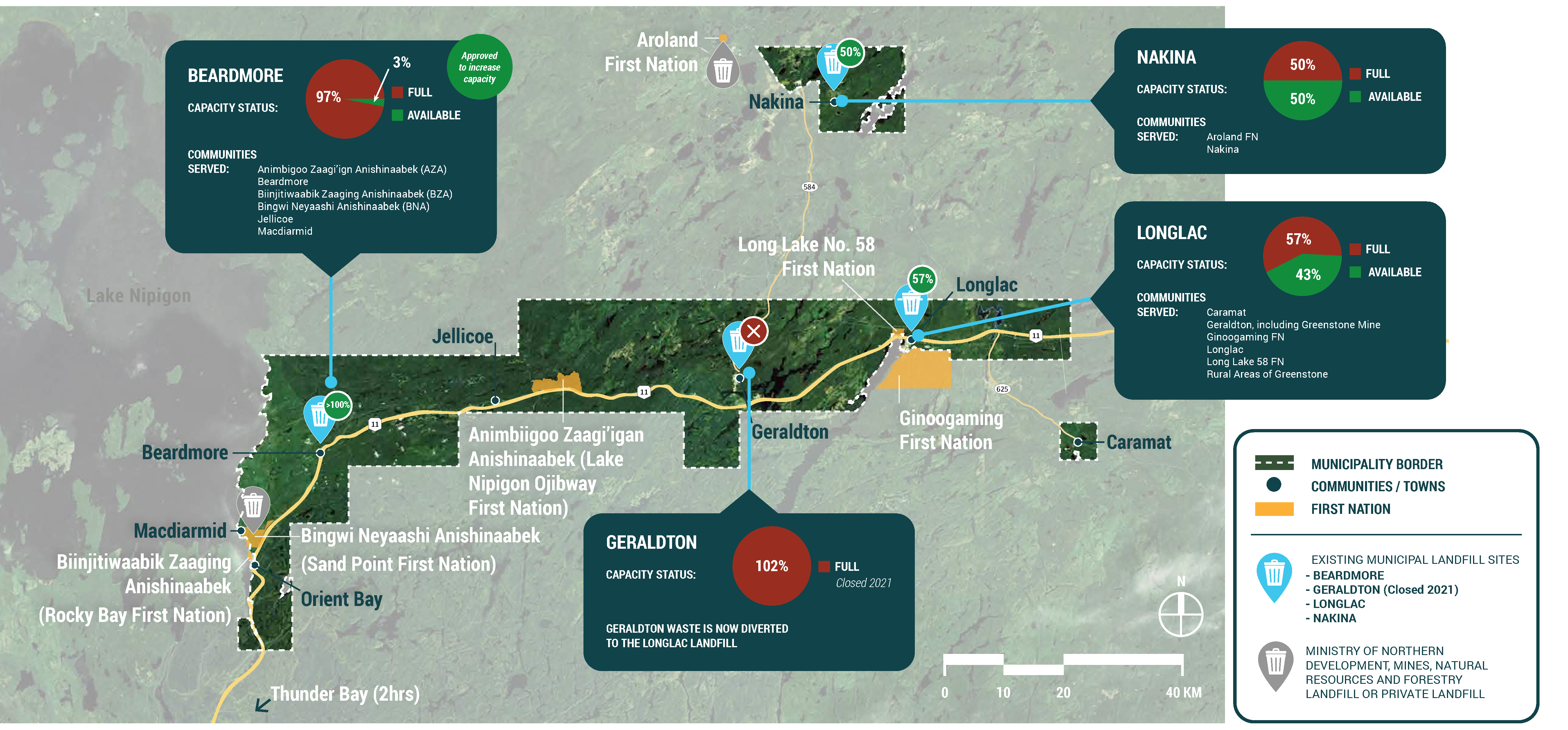 A long-term solution is need for the management of solid waste for the region. Development of this solution requires initiating an Environmental Assessment study to evaluate alternatives for waste management, identification of a preferred system, and selection of a preferred site.
The Environmental Assessment process is guided by the Municipality of Greenstone Municipal Solid Waste Disposal Plan Environmental Assessment Terms of Reference. The Terms of Reference was completed in 2013 and approved by Ministry of Environment in 2014. It acts as a road map for the current process including steps required in the study and consultation process.
TIMELINE

DETERMINE WASTE MANAGEMENT SYSTEM
The Municipality will study different ways to manage waste. Part of this process will be to make sure any new system is supported by the community and protects the environment. Some examples of new waste management systems are:
• Incineration;
• Compost;
• Landfill expansion;
• Waste diversion and waste re-use;
• New landfill; and
• Export of waste.
The process will also identify potential social, cultural, economic, and environmental drawbacks, as well as ways to reduce them.
SITE SELECTION
A site selection process will be included as part of the evaluation of the new landfill and incineration options. This process will include the following step:
Create a list of potential areas and specific sites that could work;
Based on input from rights holders and stakeholders, study and narrow down the list of potential sites;
Complete a detailed investigation for each short-listed site;
Compare the benefits and drawbacks of the short-listed sites and recommend a preferred site; and
In consultation with rights holders and stakeholders, choose the preferred site.
ENGAGE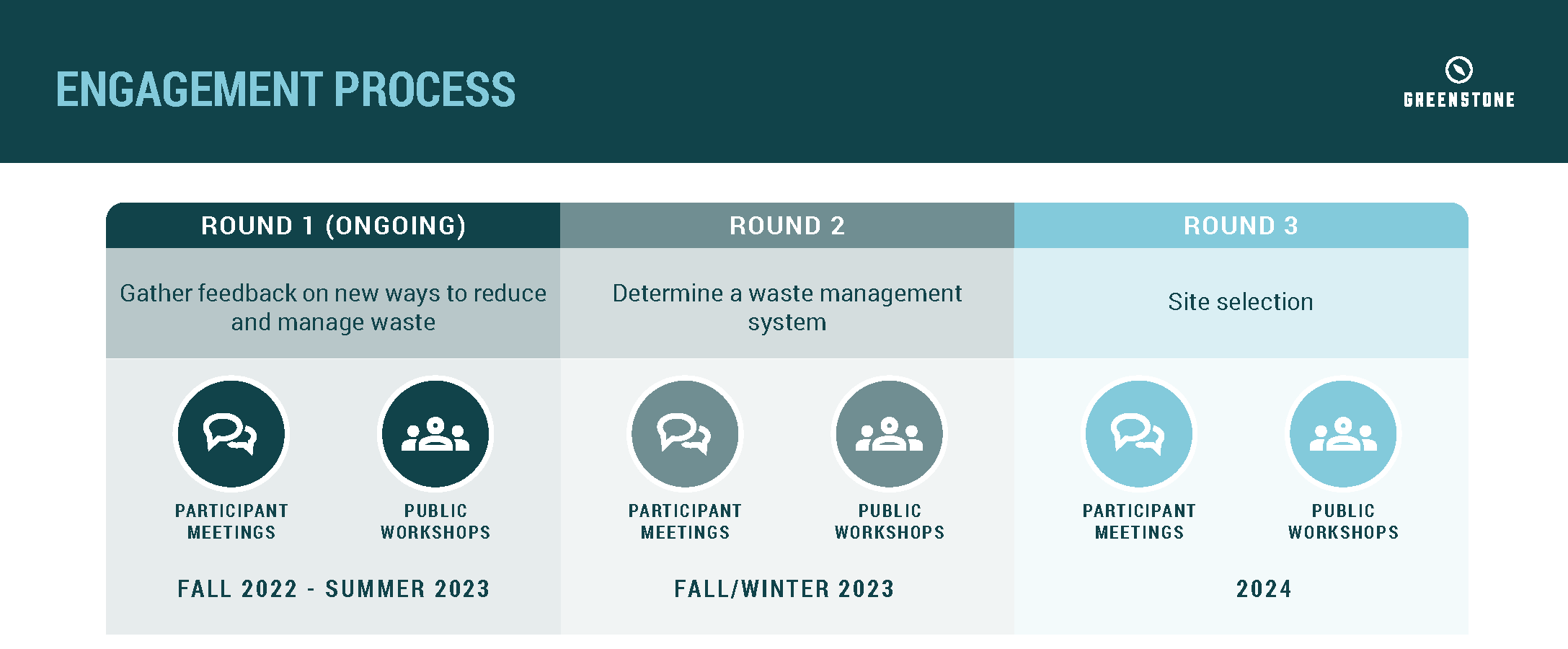 Ways to get involved
Participant Meetings
Meetings are planned with targeted stakeholder groups and organizations such as Waste Management Steering Committee, Indigenous Communities, recycling partners, Government representatives, and Industry representatives that have a vested interest in the project, provide related services or programs, or require review of the project or process.
indigenous community meetings
Public Events
Public workshops are planned for community-wide involvement in the study. These events will be open to all community members, will provide more information about the project, and gather feedback from the public. Information about the dates and locations of upcoming events will be provided here once the public workshops are scheduled. Please stay tuned!
The first round of public workshops are scheduled at all Community Centres. Planned dates are:
Longlac – November 7 Longlac Sportsplex 200 Picnic Point Road 3-7pm
Nakina – November 8 Nakina Community Centre 206 North Ave 3-7pm
Geraldton - November 9 Geraldton Community Centre 200 Wardrope Ave 3-7 pm
Beardmore – November 10 100 Main St 3-7 pm
Questions regarding the engagement process or want to get involved?
Contact the project team at GreenstoneEA@kgsgroup.com
DOCUMENTS AND LINKS